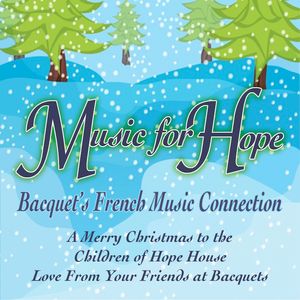 Music for Hope was a Success!  I am happy to announce that we raised over $7,000.00 for the kids at Hope House.  Stay tuned for next years holiday benefit project...
Music for Hope is now available.  The musicians that play at Bacquet's worked together with Chef Franck to put out a Holiday CD that benefits the Children at Hope House.  A special thanks to Steve Eaton as well as Quinn and Shirley Van Paepeghem, Pamela DeMarshe, Luke Carter, Lynda Johnson, Spencer Batt and the 4th grade students at North Star Charter School.  The musicians all donated their time and the production has been sponsored, so 100% of sales goes to benefit this wonderful 501(c)3 charity!
To download your copy click here.